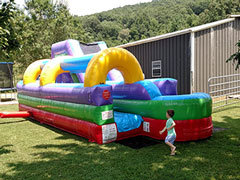 Slip and Slide Combo
Actual Size: 32Lx16Wx15H
Setup Area: 32Lx16Wx15H




Water Slide Rentals
Planning a party or event can be a daunting task, but with the right party rentals, you can make it a fun and unforgettable experience for everyone. Whether it's a birthday party, a corporate event, or a community gathering, there are a variety of party rentals available to suit your needs.
One popular option is the Slip n Slide Combo, which combines the excitement of a bounce house with the thrill of a water slide. This inflatable combo is perfect for hot summer days and is sure to keep kids and adults alike entertained for hours. In addition to the Slip n Slide Combo, there are also a variety of other inflatable bounce house rentals available, including traditional bounce houses, obstacle courses, and inflatable games.
Inflatable Rentals Near ME
When searching for a bounce house rental, it's important to find one that's located near you. This can save time and money on transportation fees and make it easier to coordinate the rental with your party's schedule. Many companies offer bounce house rental near me services, allowing you to quickly and easily find the perfect rental for your event.In addition to bounce house rentals, party rentals often include concession machines, such as popcorn and cotton candy machines, which are a great way to add a little extra fun to your party. Water slide rental is also a popular choice, especially for summer events or pool parties. Like bounce house rentals, it's important to find a water slide rental near me to save time and money on transportation.Overall, inflatable combo rentals, bounce house rentals, water slide rentals, and other party rentals can make your event unforgettable. With a little planning and the right rentals, your guests will be talking about your party for years to come.