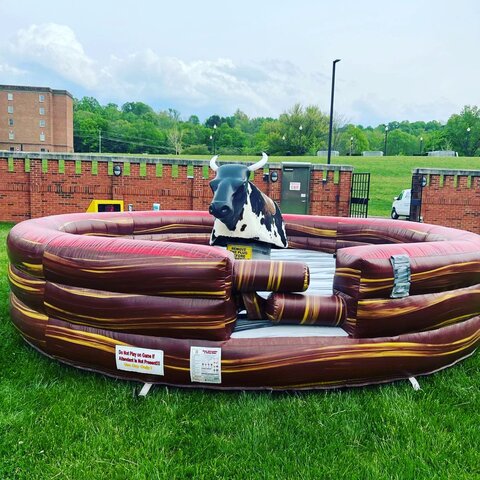 Mechanical Bull
Actual Size: 20x16
Setup Area: 20x20
Outlets: 2
Age Group: 4-65





Please call to reserve this item

Brand New Mechanical Bull. The ONLY Mechanical Bull From Madison County. All others from other cities. The pricing for our Bull is $1200 for the first 2 hours then $200 an hour after that. Call for any additional pricing info.
Your Rental comes with a Professionally Trained operator to make sure your party is Fun and Safe.
This will allow you a one of a kind Party in the Huntsville Metro area. Hang on as long as you can, Then do it again.
Perfect for Corporate Events, Church Events, Backyard Parties, Fundraisers.
Different Packages available. Amazing Fun Events.
Call for pricing.
We will need 2 -20 amp circuits to operate the Machine. Thanks
Mechicanical Bull Rentals Hunstville AL
Are you looking to rent a mechanical bull in Huntsville, AL? Look no further! At Mechanical Bull Rentals Huntsville AL, we offer the best mechanical bull rentals in the area. From our top-of-the-line mechanical bulls to our competitive prices, you won't find a better value anywhere else. We'll even deliver and set up the mechanical bull for you. So, what are you waiting for? Read on to learn more about why you should rent a mechanical bull from us and how to reserve your mechanical bull rental today.
Mechanical Bull Rentals In Hunstville AL
There's nothing like a good time, and what better way to have a good time than with some mechanical bull rentals? Our bulls are operated by trained and certified staff in accordance with all safety regulations, so you can be sure that everyone is having a great time. Our mecha-bulls offer a unique and exciting experience for family and friends of all ages. No matter the occasion, we've got the perfect option for you.
Our bulls come in multiple speeds and settings, so there's something for everyone. Plus, our equipment is regularly maintained and inspected to make sure that it's in top condition. We also provide extras like inflatable arenas and sound systems to make your experience even more fun. In addition to mechanical bull rentals, we offer other themed events such as archery tournaments or barbecues – whatever brings the greatest enjoyment to you! When it comes to entertainment, we know what's best!
The Benefits Of Mechanical Bull Rentals For Parties
When it comes to throwing a great party, there's nothing like adding a little excitement. That's where mechanical bull rentals come in. These exciting rides are perfect for any age group and can be customized to fit your specific event. Plus, they provide an amazing way to boost the atmosphere and make your guests feel like they're really part of the action. Not to mention, mechanical bulls are a big hit with customers – so you can be sure that they'll draw in more customers for your venue.
Here are some of the many benefits of using mechanical bull rentals for your next party:.
- Incorporate exciting fun into your event that is safe for all ages. Most mechanical bulls are made from durable materials and are rated as safe for both children and adults. This makes them perfect for parties – no one will get hurt while having tons of fun!
- Available in a variety of sizes and colors, so you can find the perfect ride suited to your event. You can also choose between traditional bull designs or something more unique, such as an inflatable bull mat.- With customizable options available, you're able to create an event that is just right for you and your guests. You can even add lights and music to create an exciting atmosphere that will keep everyone entertained all night long!- Wave attract more customers to your venue by providing them with a memorable guest experience on a thrilling ride. Mechanical bulls offer riders a safe landing area so there's no fear of getting injured or losing balance – making it the perfect option for events with large crowds!- Easily transportable thanks to their compact size – meaning you can set up and take down the rides quickly and easily without any hassle or messes! Plus, if you don't use the bull again after your party, it's easy enough to store away until the next time!
- Inflatable bull mats provide riders with a soft landing area should they fall off their ride during their experience – ensuring complete safety during every ride!
Why Rent A Mechanical Bull From Us
Why not try renting a mechanical bull from us? We know just how thrilling it can be to ride on one of these amazing beasts, and we're here to provide you with the best experience possible. Our bulls are top quality and professionally insured, ensuring your safety and fun. Along with our professional attendants, we have a wide variety of bull rental packages that are sure to meet your needs. Whether you're looking for an indoor or outdoor event, we have you covered.
Our equipment is of the highest quality, making sure that your event is nothing short of sensational. We also offer a variety of party add-ons that can easily transform your party into an exciting experience like no other. And don't forget about our affordable rates – we want you to have the best time possible!
How To Reserve Your Mechanical Bull Rentals Today
Are you looking for an exciting and entertaining way to spend your day? Why not try renting a mechanical bull? There are a variety of bulls to choose from, all of which offer a unique experience. You can choose your size, speed, and difficulty level – making it perfect for any age group. In addition, inflation rentals are available so that you can always up the ante. And if you're looking for something special, be sure to check out our special event packages! Our staff is professional and knowledgeable, and our equipment is safe and reliable. Whether you're planning a corporate event or just want to have some fun with your friends, renting a mechanical bull is the perfect choice.
Mechanical Bull Rentals Near Me:
At Mechanical Bull Rentals Huntsville AL, we provide the best mechanical bull rentals in the area. From our top-of-the-line mechanical bulls to our competitive prices, you won't find a better value anywhere else. Our renters are sure to have an exciting and safe experience when using one of our bulls. Plus, with extras like inflatable arenas and sound systems, you can make your event even more fun! Don't wait - reserve your mechanical bull rental from us today and experience all the thrills that come with it!